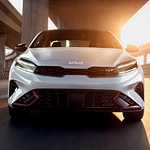 Kia Forte is a mid-range car that has been designed to be both affordable and reliable. This is one of the car types we have at Sterling Kia. We make it our duty to keep our customers informed about why a vehicle is the best fit for them. If you are looking for a car that will give you a seamless experience while driving across Lafayette and surrounding areas, Kia Forte is a reliable choice.
Kia has been producing vehicles for over fifty years, and in that time, they have become the fifth largest automaker in the world. They are known to produce cars with outstanding performance while still maintaining affordability.
Kia Forte features impressive features making it stand out from cars in this class. It has in-car entertainment that comes with a USB connection, four speakers, and others. Kia Forte comes with cupholders, electric power steering, air conditioning, and many more for comfort and convenience. In terms of performance, Forte has an engine with a horsepower of 147 and 132lb-ft of torque.