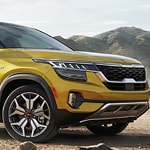 If you're looking for a car that can help you get through your everyday routine with ease, the Kia Seltos is the perfect vehicle for you. This multi-purpose vehicle will provide comfort and convenience on any journey, whether it be to work or just out on the town.
The Kia Seltos is sleek and stylish, with an exterior design that will catch people's eyes! It also has excellent engineering behind its performance; you'll be blown away by how fast this can go from 0 to 60 miles per hour. Its price range from $22,490 to $24,000 also makes it an affordable vehicle for any budget.
It has some of the latest technology to help protect you from any oncoming dangers. It has earned has five-star ratings in front impact protection, side head airbags, knee airbags, and dashboard airbags. To get Kia Seltos of your choice, visit us at Sterling Kia, and we will be glad to serve you.