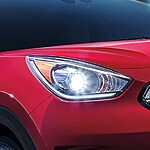 If you're looking for a crossover or SUV that's practical and stylish, consider getting a new Kia Niro. This model is affordable while having many advanced components, and it can be a lot of fun to drive.
At Sterling Kia, we carry both a hybrid and a plug-in hybrid version of the Kia Niro. The hybrid can earn more than 50 miles per gallon as it travels around Lafayette. The plug-in is attractive because it can be charged at your home or anywhere there's a public charging station. You'll find your monthly gas costs lowering significantly.
The Niro makes sense for local drivers because of its cabin configuration. There is a good amount of second-row leg room, and when you lower the rear seats, you'd have more than 60 cubic feet of cargo space. Plus, you can take advantage of the smartphone compatibility if you're someone who likes staying connected to the network.